In the era of universal minimalism, painting complex pictures, filled with detail, may seem like a bold move. However, the risk of creating such art is close to 0 if you add one element to it – authenticity.
"

BUDUJE W SOBIE GNIAZDA, TRZYMAM SZTAMĘ Z PTAKAMI

"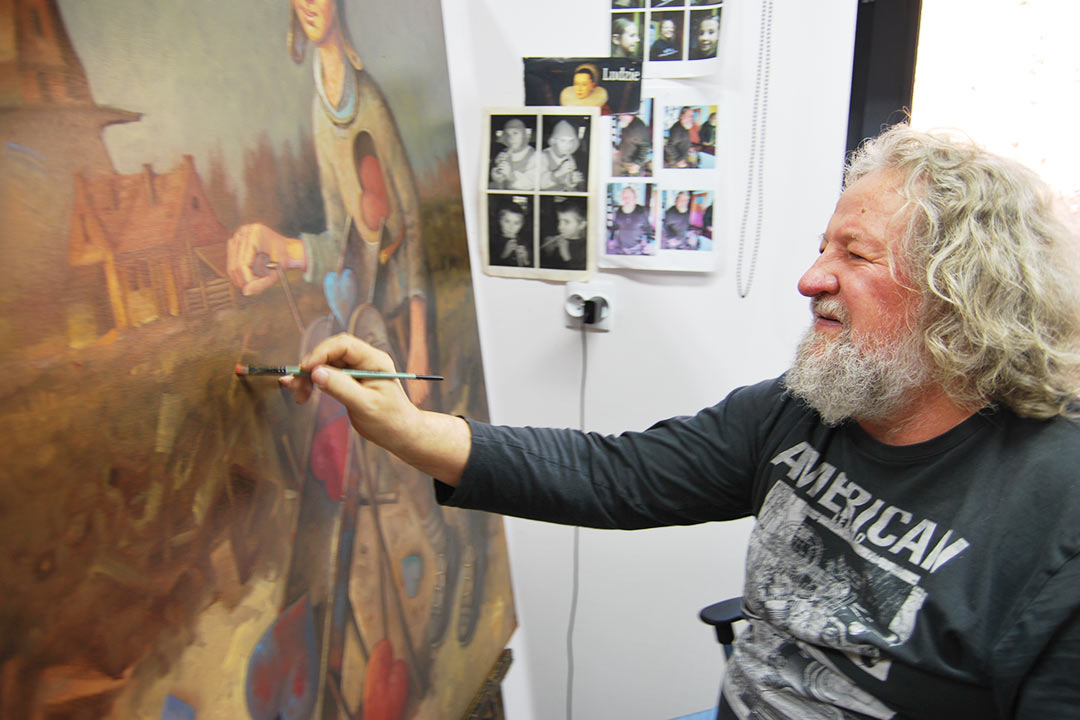 Lovers of Miliński's idyllic, somewhat surreal works compare them to paintings by Bosch and Breugel. It's all thanks to the aforementioned authenticity that they see in the characteristic world of the presented fairy tales.
Dariusz Miliński shows how to be a complete artist. His paintings stir the imagination and hit the nostalgic strings of provincial life, and at the same time, the works of this hardworking artist can be admired on the international arena (over 300 group exhibitions). He breaks frames himself, he is a poet, a sculptor, he performed and created theatrical performances, he runs his own business, and when asked who he considers himself in the first place, he replies that … a simple worker.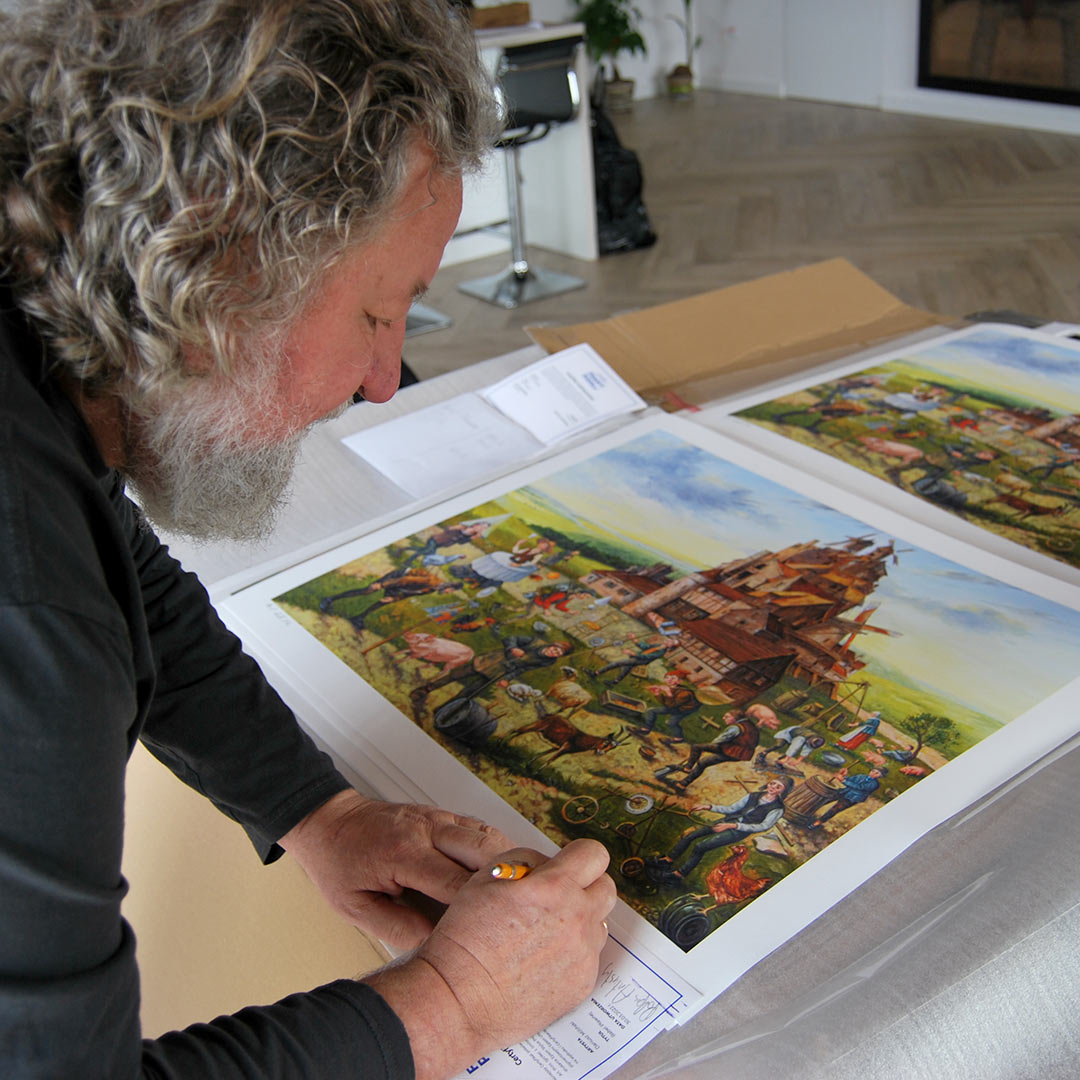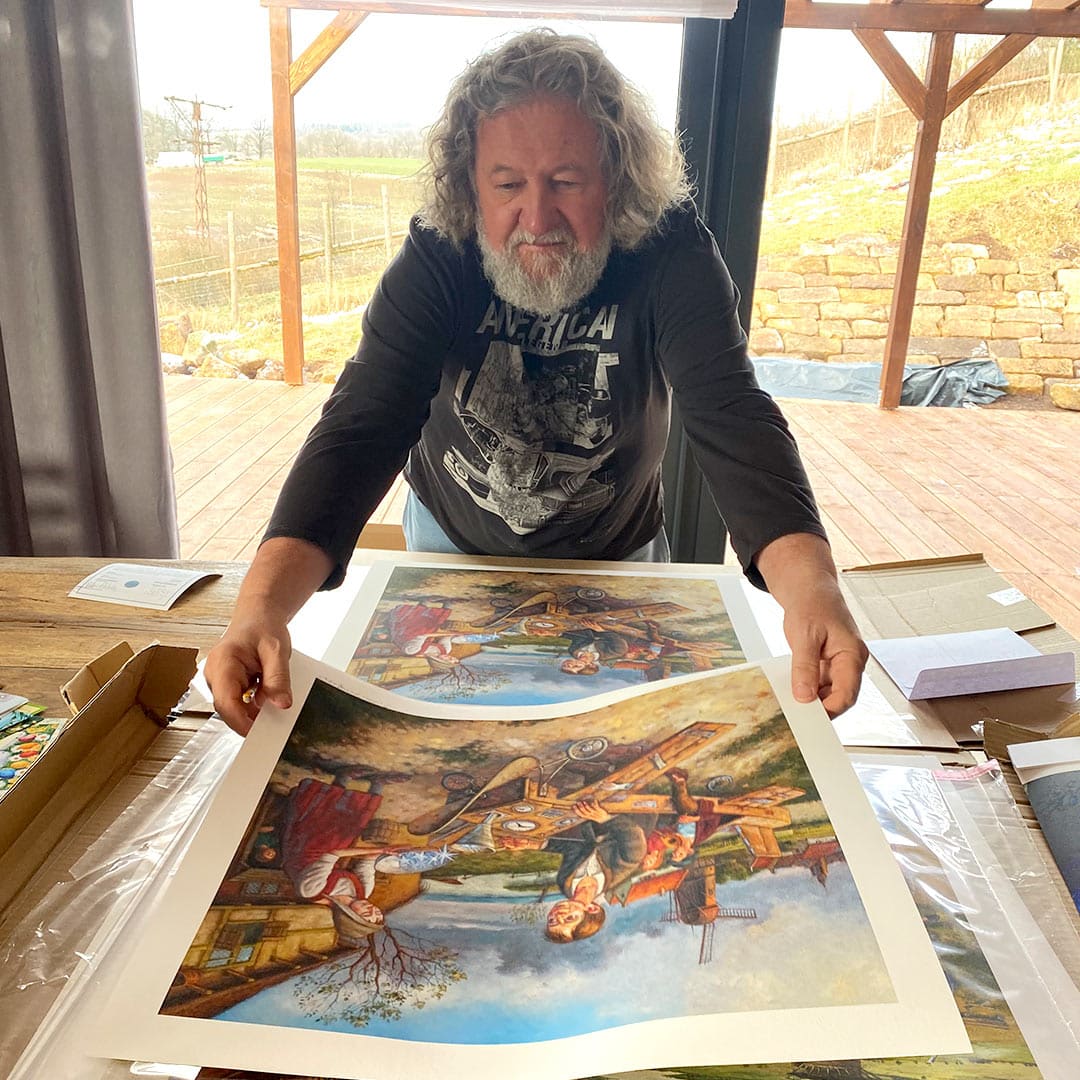 He described his colorful life, in which art has been present for over 50 years, in a book with the perverse title "Born at the Cemetery". His works have penetrated the world of pop culture thanks to the posters of award-winning Polish films (e.g. "Edi" or "Mój Nikifor"), which makes the artist's talent appeal to a wide audience.
What distinguishes the world of imagination presented in Dariusz Miliński's paintings from other paintings of a similar trend? Among other things, reviving local legends of Silesia and a whole colorful range of fairy tales, which, through rich illustrations, can tell endlessly..
EXHIBITIONS AND DISTINCTIONS:
He has participated in over 290 individual and over 300 group exhibitions, e.g. in Poland, Germany, France, Belgium and the USA.
He took part in dozens of artistic happenings and theatrical performances.
He won many awards and distinctions.
A tireless animator of culture. Founder of the artistic group "Pławna 9". Creator of the Castle of Silesian Legends, the Knights' Castle, the Museum of Displaced Persons and Noah's Ark
Avaliable prints of the artist: